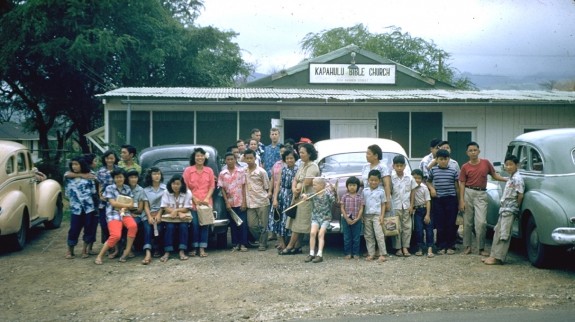 circa 1956
____________________________________________________________________________________________________________
History of KBC
From a humble start in a barn, Kapahulu Bible
Church has been serving the needs of Kapahulu
for over 60 years.
One of the early pastors said that if a barn was good
enough for our Savior to be born in, then a barn was
good enough for us to worship in.
Located near Waikiki and the Diamond Head Crater,
the early motto of the church was: "Kapahulu Bible
Church, a Light in the Shadow of Diamond Head."
The mission of Kapahulu Bible Church continues to
be a family of believers that shines the light of Jesus
into every corner of our community and our world.
On Easter Sunday, 1963, our current building was
finished and dedicated to the Lord. It was known as
"the church that was build with miracles."
Today, as in the past, it is our hope, desire and
passion to serve the community of Kapahulu,
and beyond, as we continue to share the
love of Jesus Christ.
We, as a community of believers, come together
to meet in corporate prayer, worship, service, and
fellowship to praise and honor God together, and to
encourage one another and help each other grow
in our relationship with the Lord Jesus Christ.